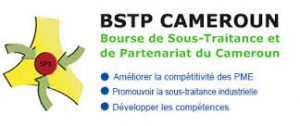 The Cameroon Subcontracting and Partnership Stockexchange (BSTP) are centres of technical information, promotion and linking between the donors, the suppliers and the subcontractors, which aim at using the more optimal (the most complete, logical and efficient) productive capacity of the affiliated industries. Indeed, stock exchanges appear not only as meeting points and as instruments of regulation between the supply and demand of industrial subcontracting works, but also as instruments of assistance for both partners, and particularly for small and medium-sized subcontractors or suppliers.
The Cameroon Subcontracting and Partnership Stockexchange (BSTP CMR) is an EIG created on May 8, 2013 by the Cameroonian government. Its activities are carried out by a technical team placed under the authority of a joint committee of 14 members from the public sector, the private sector and with observer members (EU, UNIDO, ADB, API, AP-SME, BC-SME …). It is a joint public-private committee for a convergence of concerted actions.
The EIG BSTP CMR is under the supervision of the Ministry of Small and Medium-sized Enterprises, Social Economy and Handicrafts. Its main members are SMEs (prime contractors) and large companies (principals) and receives funding from the Government of Cameroon, the European Union and technical support from UNIDO.
The BSTP intervenes in a dozen sectors of industrial subcontracting activities: Civil Engineering; Mechanical Engineering ; Electrical engineering; Surface treatment; Plastic and rubber; Industrial services; Agri-food; Wood ; Transport; Telecommunications; Mine; Textile.
Goal
The main objective of the Cameroon Subcontracting and Partnership Stockexchange is to provide local manufacturing companies with the tools and services that will improve their performance and practices and allow them access to industrial subcontracting markets.
Specific objectives
Increased levels of production, employment and investment in the industrial subcontracting sector;
Productivity improvement and competitiveness at the national, sub-regional and international levels;
Improvement of local products, their manufacturing process and the competitiveness of SMEs / SMIs;
Promotion of import substitution and export of processed products;
The contribution to the redeployment of manufacturing facilities and thus to the transfer of industrial technology and know-how to the benefit of SMEs / SMIs;
 The development of local content (National preference).
Membership conditions
The services of the Cameroon Subcontracting and Partnership Stockexchange (BSTP) are aimed at local companies specializing in industrial subcontracting, employers' organizations, contractors and various partners. Candidates for BSTP membership must meet the following criteria:
Being a SME / SMI under Cameroon law
Being in good standing with the tax administration
Have a staff of at least 05 people
Be active in one of the sectors of intervention of the BSTP
Justify at least two years of existence
Have all official documents up to date
Subscribe to a membership and an annual membership fee.
Request and complete the membership form
Pay the annual dues below, the scale of which is decided by the General Assembly of Members.
Contact
For more information on the Cameroon Subcontracting and Partnership Stockexchange or to benefit from subcontracting opportunities please contact us:
Cameroon Subcontracting and Partnership Stockexchange (BSTP-CMR)
Head office Douala, Akwa building KASSAP 8th floor
B.P. 12899 Douala, Tel: +237 242 66 86 13/233 42 59 69
Email: info@bstpcameroun.org